Jane M. Klausman Women In Business Scholarship
Established in 1998 from a generous bequest by Jane M. Klausman, a member of the Zonta Club of Syracuse, New York, the Jane M. Klausman Women in Business Scholarship is awarded annually to women pursuing undergraduate or Master's degrees in business management. There is more information about the program here.
The Zonta Club of Denver will award a scholarship of $1,500 to the successful applicant. In addition to $1500 to be awarded by the club, the recipient also will be entered to win an additional $5000 from International and District 12.  One $5000 award will be given in each district.  District 12 consists of 19 clubs in Colorado, Wyoming, Montana and South Dakota. The Zonta Club of Denver is in Zonta International's District 12, comprising 19 clubs in Colorado, Wyoming, Montana, and South Dakota. The scholarships may be used for tuition, books, or living expenses at any university, college, or institution offering accredited business courses and degrees.
Eligibility
Women pursuing a business or business-related degree who demonstrate outstanding potential in the field are eligible. Online students are also eligible. Classified members and employees of Zonta International or the Zonta International Foundation, and their family members, are not eligible.
Application Process
The Jane M. Klausman Women in Business Scholarship program operates at the club, district, and international levels of Zonta International. To apply, please complete the application here and submit it via email to the address specified in the application. If you have difficulty opening the application, please email zontadenver.zcd@nullgmail.com.
Deadline
The application deadline for the 2023 scholarship must be submitted electronically BY May 15, 2023 to jasullivan2007@nullgmail.com.
All applications must be submitted in PDF for consideration.
Please read the information carefully so that your application is complete.  Incomplete applications will not be considered.
Zonta Club of Denver Scholarship Winners
2022 Scholarship Winner, Kailee Caranta.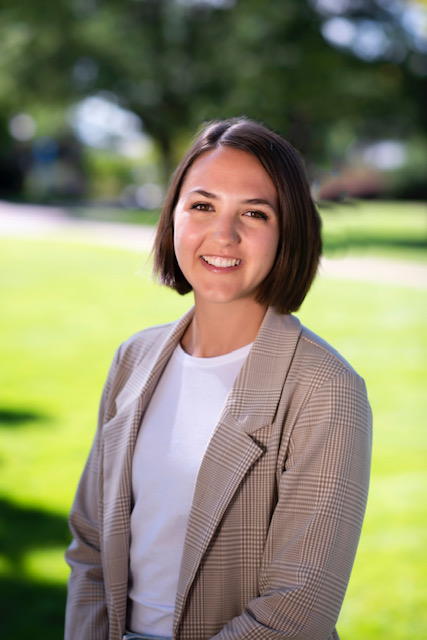 Kailee Caranta is the 2022 winner of the club's Jane M. Klausen Women in Business scholarship.
Kailee is a 2015 graduate of University of Colorado, with Distinction. She majored in Ecology and Evolutions Biology.  Now a University of Denver Daniels scholar, she is currently carrying a 4.0 average as she works toward her MBA degree.
After graduation from CU, Kailee worked for several years at a digital marketing agency, where she excelled as a leader, problem solver, and relationship builder.  This led her to a desire to combine her zeal for environmentalism and business.
During her MBA experience, Kailee is using every possible resource to discover deeper purposes for her work.  An outstanding leader, her student case competition teams won locally and reached the finals in the national competition.  She participates and leads in organizations with wide scopes, from Business Impact to Diversity councils to Women in Business groups, and has taken on internships and graduate assistant roles, earning appreciation for her contributions.
In marketing, Kailee nurtures her passion and respect for the intersection of business, environment and people, while honing her recognized communication skills, critical thinking and creativity.
2021 Scholarship Winner, Anna DiSaverio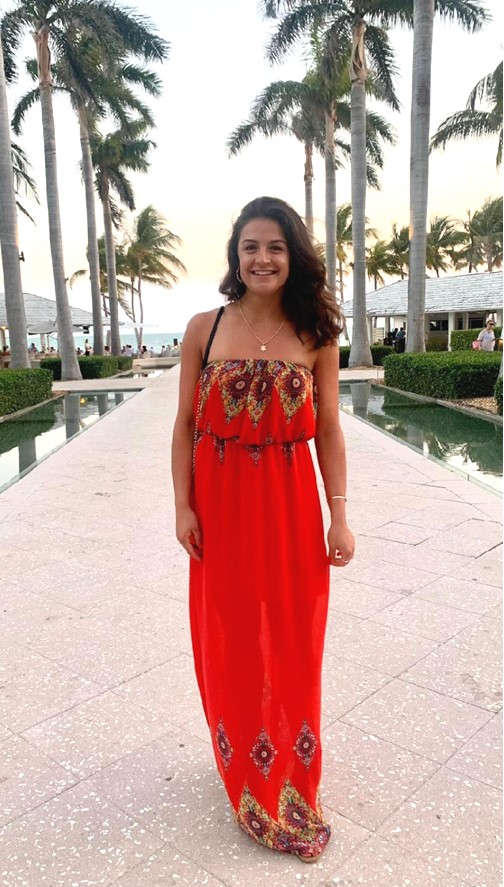 The 2021 JMK winner is Anna DiSaverio, a graduate student in the Daniels College of Business at the University of Denver. Anna is majoring in Applied Qualitative Finance. Her expected graduation date is March 2022.
As a student, Anna is described as having outstanding leadership and organizational skills. She is a quick study and very persistent. Her objective is to master the material and not just get a good grade. Anna is an excellent team player and exhibits first-rate communication skills. She is a kind person who is respectful of others.
Anna thrives on change and appreciates the opportunity to use innovative thinking to come up with solutions. Her major in Applied Qualitative Finance will prepare her to be a financially literate, strategic, female leader. Anna would like to pursue a career in the Wealth Management arena, either public or private. She desires a client-facing, fast-paced career that utilizes her critical and analytical skills. She is passionate about educating people about their personal finances. A specific goal is to serve under-privileged Americans. If her primary career does not help those who struggle financially, it is Anna's priority to run educational trainings or meetings on her own time.
Anna believes the Jane M. Klausman scholarship will help her to use her voice and further advocate for fellow women in business, but also broadly for women around the world.