Zonta works toward and advocates for a world in which women's rights are recognized as human rights and every woman is able to achieve her full potential.
We follow proposed legislation affecting equal rights and the status of women. Locally, our club partners with like-minded organizations and aspires to collaborate with others, including The Women's Foundation of Colorado, the American Association of University Women, League of Women Voters Colorado.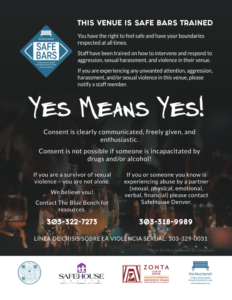 In 2021, The Zonta Club of Denver's (ZCD) advocacy, service, and public relations committees partnered with The Blue Bench (thebluebench.org) to create a poster to raise awareness of sexual harassment and assault. The Blue Bench (TBB) is one of ZCD's service award winners. TBB Safe Bars Project trains staff in establishments that serve liquor on how to recognize and respond to incidents of sexual harassment and assault. The "Yes Means Yes" posters have been placed in ten Safe Bar trained businesses and offers information about consent and safety along with phone numbers and a Quick Response (QR) Code for access to sexual assault and domestic violence resources available.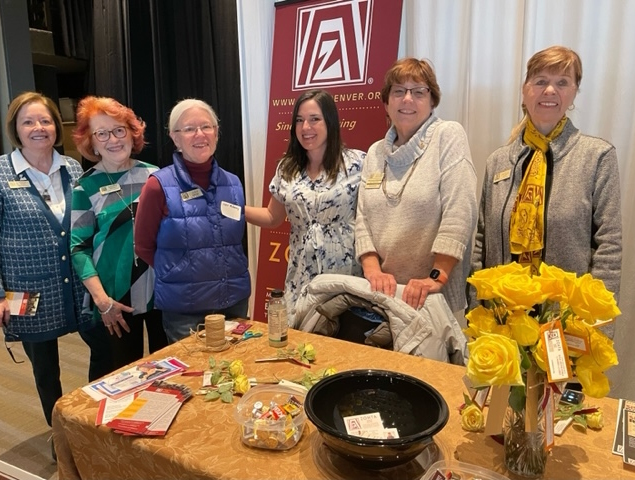 Several Zontians hosted a table at the 2023 Women Powering Change event on March 2nd to celebrate International Women's Day. Over 100 tables of non-profit organizations serving women in the Denver area were visited by nearly 1,000 people to highlight the role of women in creating a more secure and sustainable world. Yellow roses with labels showing Zonta's new tagline, "Build a Better World for Women and Girls", were given to many attendees in honor of Zonta Rose Day, which is March 8th.