2020 Scholarship Winner, Thy Thy Nguyen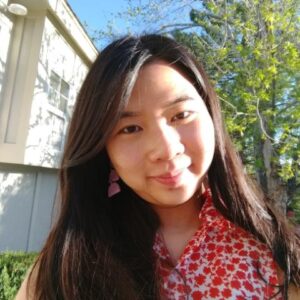 Thy Thy Nguyen is the 2020 Jane M. Klausman scholarship winner. Thy Thy is a student at Regis University working towards a Master's of Science in HR Management. Values that motivate Thy Thy are female empowerment and ethical practice. Ultimately, her goal is to be a human resources director or a chief ethics officer in the STEM field.
Thy Thy aspires to promote more qualified women, especially from minority groups, in leadership positions. She plans to accomplish this by organizing programs that involve mentoring and coaching to support newly recruited women with the aim being to have more women moving up to senior management positions. Thy Thy believes the female perspective adds to an organization's corporate ideas and culture.
Thy Thy excels in her studies at Regis. She is described as a dedicated and diligent student. She readily participates in classroom discussions and projects producing work that is always exceptional. Thy Thy seeks to understand concepts and works hard to determine how theories are applied to business.
Thy Thy works at Regis University as an assistant in the nurse practitioner clinical experience and internship program. At work, Thy Thy exhibits organizational skills, communication and interpersonal skills, and resourcefulness. She is a team player and is willing to help outside of her job parameters. Her supervisor states, "Thy Thy has tremendous potential to be successful in human resources in any business environment. She will be a strong contributor to her team and perhaps a role model as she gains more work experience."
2019 Scholarship Winner, Taylor Pinson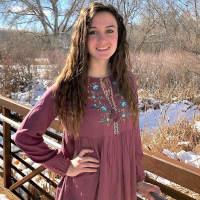 The 2019 Jane M. Klausman scholarship was awarded to Taylor Pinson. Taylor is a junior at Metropolitan State University who is majoring in Marketing and Business Management. Taylor is an exemplary student. While taking one of the more difficult courses on the Metro campus in the Principles of Accounting,  Taylor's instructor commented on Taylor's motivation and professionalism in the classroom. In describing Taylor, the instructor stated, "Ms. Pinson is always professional and engaging in class. Her questions are always astute and relevant. Her diligence in understanding the material is commendable and demonstrates her motivation for learning as well as her intellectual independence."
Taylor is a member of the Beta Gamma Sigma Business Honor Society and serves as the secretary. A business student must be in the top 10% of her class to be eligible for membership. As secretary, she has organized events including the induction ceremony for new members. Networking with professionals in marketing has been a priority for Taylor. She has shown initiative in making numerous business contacts. One of Taylor's goals as secretary of the Business Honor Society is to make connections with local small business owners to provide more networking opportunities for the other members.
While enrolled in school, Taylor is working as a respite care provider. In addition, Taylor finds time to volunteer with many community organizations such as the Battered Women's Shelter, Mountain States Children's Home, and Operation Christmas Child.
2018 Scholarship Winner, Holly Brower
Holly Brouwer is the 2018 Jane M. Klausman scholarship recipient. Holly received her B.S. in Finance and Business Information and Analytics from the University of Denver. While pursuing her undergraduate degree, Holly worked and interned in finance. Her supervisor at CAM Investor Solutions commented on Holly's ability to adapt quickly to an entrepreneurial environment. She was able to demonstrate her analytical skills and understanding of how to better improve a process while keeping the focus on the client experience. In addition, Holly volunteered with the Office of Student Engagement as an Executive Board member and Event Planner for DU's Programming Board. She was also a student leader with DU's Ethics Bootcamp Program. Holly is currently working on a master's degree in Applied Quantitative Finance at the University of Denver, Daniels College of Business.
Holly is passionate about social justice and social responsibility, especially in the finance industry. She aspires to work in an environment where client needs and education are a priority. Holly is extremely interested in nonprofit finance. She wants to make a difference in people's lives while loving her career. Talented in problem-solving, working with people, and gaining insight from data, Holly is someone who considers the impact of her future career greater than any financial award.
2017 Scholarship Winner, Marley Weaver-Gabel
Marley Weaver-Gabel was awarded the Jane M. Klausman scholarship at all three levels:Zonta Club of Denver, Zonta District 12, and Zonta International. Marley attends Regis University and is majoring in International Business and Economics. She is currently a junior and is studying abroad in South America for a semester.
In addition to her exemplary academic record, Marley has been actively involved with Regis University. She has been in the Student Ambassador program and has been the editor-in-chief for The Highlander, the student newspaper. Marley is passionate about service and has volunteered as a community leader at the Denver Women's Correctional Facility while working with Alternatives to Violence Prevention workshop. During her time at Regis, Marley has been on service trips to Nicaragua and Haiti.
In her application Marley states her goal: "Upon graduation, I want to serve two years in the Peace Corps on a Community Economic Development project, working in the local economy to provide business opportunities to citizens. After, I envision myself working for a nonprofit to continue developing international economies."
Her faculty advisor stated, "In whatever Marley does, Marley leads and leads with passion. Marley, simply stated, is exceptional."
2016 Scholarship Winner, Brenda Lucero
Growing up as a low-income student in the metro Denver area, Brenda was ambitious and had high expectations of herself. Her parents always stressed the importance and the power of education.
Brenda excelled in high school. Even though her family did not have the means to pay for college, through the guidance and support from numerous women educators at her school, Brenda applied for and received the Gates Millenium Scholarship and was able to attend the University of Denver. Brenda graduated in 2010 with Cum Laude honors majoring in Finance with a minor in Spanish.
Since graduating from DU, Brenda has been involved with organizations that promote equal access to education and resources for Denver Public Schools students and higher education for low-income communities in Colorado. Brenda is mentoring a young woman who is a Latin American Educational Foundation scholar and is pursuing a Business Management degree.
Currently, Brenda is serving as an Operations and Budget Manager for the Denver Public Schools. Her dream is to continue on an operational career path with DPS and to one day serve as the Chief Operating Officer. To help achieve this goal, Brenda is presently enrolled as a graduate student at Regis University in the M.S. Organizational Leadership and Management program. Through this career path Brenda aims to improve the quality of resources and support services provided to students and schools. She hopes to further her skills and knowledge by obtaining a deeper understanding and commitment to organizational process excellence, collaborative leadership, and forward-thinking change management. These are all qualities that will assist Brenda in becoming an effective leader with DPS and in today's society.
Brenda says that she appreciates all the women who were her mentors and who have helped her define and achieve her goals, and believes that it is crucial that women lift each other up, encourage one another to believe in their value, and lead with passion within their fields of interest. She wants to pay it forward and hopes to positively influence young women who desire to be successful businesswomen in the same way that the women in her network encouraged her.
2015 Scholarship Winner, Edit Maszlaver
Edit Maszlaver was awarded the 2015 Jane M. Klausman scholarship while pursuing a Master's Degree in Professional Accountancy from Metropolitan State University. Additionally, because of her outstanding academic record, Edit went on to receive two additional scholarships, one from Zonta District 12 and the other from Zonta International, for a total of $10,000.
Edit grew up in an Eastern European country, Hungary, and is still active with the Hungarian Society in Colorado. She also financed her education while working full time and raising two teenage children as a single parent. Edit stated, "Receiving the scholarship and not being deep in debt allowed me to choose an assignment not purely based on financial consideration, but based on usefulness to society, and that is something truly important to me."
One of Edit's professors at Metro State University of Denver stated in his recommendation: "Edit is an extremely intelligent, articulate, and well-mannered individual. She is also a critical and analytical thinker, and able to express her ideas clearly. In summary, Edit has the potential to go far in the accounting field. In fact, she is one of the best students I have ever had the pleasure to teach."
Edit earned a B.S. in Business Management and an International Business Certificate in May of 2014 from Metropolitan State University. She then earned a Master's of Professional Accountancy in December 2015.
Edit believes businesses often need to expand globally to stay competitive. She would like to be the person who helps companies grow their businesses internationally.
2014 Scholarship Winner, Autymn DeWolfe
Autymn DeWolfe says, in describing her educational journey, "in order to know where you are going, you have to know where you have been." The places that Autymn has been have given her a test in economy, a glimpse of the world from an important teacher, and a lesson in leadership from a little pink hardhat. Autymn grew up in a rural town north of Denver with her family living just above the poverty line.
Early in her life her vision of what was possible for her was narrow considering her family's limited resources. That changed in junior high school when one special teacher arranged an opportunity for her to participate in a six-week summer program in Trinidad, Colorado, called Upward Bound Math Science. She met young intelligent students from all over Colorado who were excited about their futures. That summer transformed her view of education and gave her new strength and determination.
After high school graduation, Autymn worked for several commercial construction companies, including The Weitz Company, where she was paired with outstanding managers who recognized her talent and potential. She worked her way into project management. Because of her youth and gender she was sometimes not taken seriously on large-scale construction projects. She added a pink hardhat to her wardrobe to help bridge the gender gap. She also learned a powerful lesson in leadership—levity is often as important as strength when working with people.
Autymn graduated in December 2014 with her Bachelor's Degree in Business Administration and is eager to experience different cultures and perspectives. She also wants the opportunity to pay forward the mentorship and leadership that was given to her by helping other women navigate the field of project management in business.
2013 Scholarship Winner, Camille Shortridge
Camille Shortridge is majoring in Business Administration / International Business at the University of Denver Daniels College of Business and due to graduate in 2014. Camille resides in Denver and is a citizen of the U.S. and France. Camille's academic goal is to graduate from DU with a degree concentrating in international business. Following graduation her goal is to live and work abroad with an international organization that aims to connect developed and less developed nations through business transactions. As a woman striving to work in the international business industry, Camille plans to use her abilities to influence and create the change that is needed in the international community in order to help less developed countries reach a higher global standard.
During the summer of 2013 Camille gained additional international experience by participating in the University of Denver's competitive Bosnia and Herzegovina "Moving Forward" International Service Learning Program. The program took her to Sarajevo for two months as an intern for an international non-profit that works with global business standards and solutions. Given that Bosnia and Herzegovina's economy is still hindered from the Bosnian War of 1992, this is a project that will help further develop their economic system and the opportunities for all of its citizens, especially women.
Camille has paid for her own education at DU by working part time during school, plus income from scholarships and loans. A faculty recommendation for Camille describes her as exceptionally bright, seriously compassionate, and thoroughly professional. Her work supervisor at DU's Student Life Center describes her as outstanding with exemplary personal character, commitment, and positive attitude, in addition to providing excellent customer service and rapport with customers and co-workers. Camille has also dedicated much of her co-curricular time helping others by volunteering in the community for Habitat for Humanity, Invisible Children, Food Bank of the Rockies, The Delores Project, Junior Achievement, and others. She is fluent in French and English.
2012 Scholarship Winner, Jiwei Gu
Jiwei Gu was chosen as the Jane M. Klausman Women in Business Scholarship recipient. She is a first generation immigrant from China who came to the U.S. five years ago. It is her goal to graduate from the University of Denver with both a Finance and International Business major along with a Business Ethics and Legal Studies minor. She is enthusiastic about getting into the financial industry and doing business internationally. Jiwei would like to find a niche in the market that will allow her to combine her legal and finance background in business.
Ms. Gu, who was born and raised in China, also has a goal of gaining experience in the global business world to start a social enterprise that allows her to utilize her expertise to help end the "lost girls" tragedy in China and to get more girls into school in other Asian countries that have similar social issues.
2011 Scholarship Winner, Georgina White
Georgina White obtained her undergraduate degree in international business in France, and won the Zonta Club of Denver 2011 Jane M. Klausman Scholarship while seeking her master's in finance at the University of Colorado at Denver.
Georgina had been involved in many volunteer activities and wanted to make a difference in the lives of people who do not have access to financial services. She had heard of a woman in Haiti who had two mango trees on her dry field and could not make a living from her production because she didn't have the money to construct a canal for irrigation. Giving the Haitian woman access to a $2,000 loan could improve her well-being and have a long-term positive impact on the Haitian economy. Georgina felt that this story is just one of many and, as a result, she chose to pursue a master's degree in finance. She believed that financial institutions engaging in this issue will improve their image, bring about change, and significantly impact the world economy and the lives of millions.
Following her graduation, Georgina worked in Frankfurt, Germany, for the European Central Bank on a short-term contract. She was then offered a position at ProCredit Holding, a group of 21 banks operating in transition economies and developing countries in Eastern Europe, Latin America and Africa. Its core business is the provision of credit and other banking services to very small, small and medium-sized enterprises and lower and middle income savers who have previously had limited access to formal financial services. She remains committed to assisting the underserved.